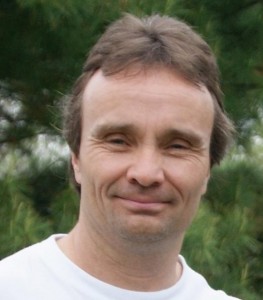 First the basic info stuff… My name is Ragnar.  It is a Swedish name but I live in Canada. I am married and we have a son. I studied at University of Toronto, University of New Brunswick and Acadia University.
I grew up in an upper middle-class professional family. Originally from Sweden, we immigrated to Canada when I was young, and grew up while living abroad in several countries – Algeria, Germany and Cameroon, and finally returning to Canada for university. My mother had been born in India and grew up there. She speaks Hindi quite fluently. As I grew up, at times she would tell me about the various Hindu gods and goddesses and show me pictures of them that she had collected in a book. So as I grew up in the West, and then also in a Muslim country, I was also exposed through my family to Hinduism. Through it all, like everyone else I wanted (and still want) to experience a full life – one that is characterized by contentment, a sense of peace, and of meaning and purpose – along with a connectedness to other people.
Living in these diverse societies – of various religions as well as very secular ones – and being an avid reader, I was exposed to different views as to what is ultimately 'true' and what it takes to get a full life.  What I observed was that though I (and most in the West) had unprecedented wealth, technology and opportunity to achieve these goals, the paradox was that 'the full life' seemed so elusive. I noticed that relationships are more disposable and temporary than that of previous generations. Terms like 'rat race' was used to describe how we lived. I heard that if we can get just 'a little bit more' then we would arrive. But how much more? And more of what? Money? Scientific knowledge? Technology? Pleasure?
As a young person I felt an angst probably best described as a vague restlessness. Since my father was an expatriate consultant in Africa, I hung out with other wealthy, privileged and educated western young people.  But life there was quite simple with very little to amuse us. So my friends and I dreamed of when we could return to our home countries and enjoy TV, good food, opportunities, and the ease of western living – and then we would be 'satisfied'. But when I would visit Canada or Europe, after the first bit of happiness the restlessness would return. But worse, I also noticed it in the people who lived there all the time. Whatever they had (and they had a lot by any standard) there was always need for more. I thought I would find 'it' when I had a popular girlfriend. And for a while this seemed to fill something within me, but after a few months restlessness would return. I thought when I got out of high school then I would 'arrive'… then it was when I could get a driver's license and gain mobility – then my search would be over. Now that I am older I hear people speaking of retirement as the ticket to satisfaction. Is that it? Do we spend our whole lives chasing one thing after the other, thinking the next thing around the corner will give it to us, and then … our lives are over? It seems so futile!
The Wisdom of Solomon
During these years, because of this restlessness that I saw in and around me, the writings of Solomon made a deep impact on me. Solomon, a king of ancient Israel famous for his wisdom, wrote several books in the Old Testament of the Bible (Veda Pusthakam) around 950 BC. In the book Ecclesiastes, he described this same inescapable restlessness that I was experiencing. He wrote:
"I thought in my heart, 'Come now, I will test you with pleasure to find out what is good.' …I tried cheering myself with wine, and embracing folly—my mind still guiding me with wisdom. I wanted to see what was worthwhile for men to do under heaven during the few days of their lives.

I undertook great projects: I built houses for myself and planted vineyards. I made gardens and parks and planted all kinds of fruit trees in them. I made reservoirs to water groves of flourishing trees. I bought male and female slaves and had other slaves who were born in my house. I also owned more herds and flocks than anyone … before me. I amassed silver and gold for myself, and the treasure of kings and provinces. I acquired men and women singers, and a harem as well—the delights of the heart of man. I became greater by far than anyone … before me. In all this my wisdom stayed with me….I denied myself nothing my eyes desired; I refused my heart no pleasure. My heart took delight in all my work, and this was the reward for all my labor." (Ecclesiastes 2:1-10)
Riches, fame, knowledge, projects, women, pleasure, kingdom, career, wine… Solomon had it all – and more of it than anyone else of his day or ours. The smarts of an Einstein, the riches of a Bill Gates, the social/sexual life of a Bollywood Star, along with a royal pedigree like that of Prince William in the British Royal family – all rolled into one. Who could beat that combination? You would think he, of all people would have been satisfied. But he concluded:
"'Meaningless! Meaningless!" says the Teacher. 'Utterly meaningless! Everything is meaningless.' … I … devoted myself to study and to explore by wisdom all that is done under heaven. What a heavy burden God has laid on men! I have seen all the things that are done under the sun; all of them are meaningless, a chasing after the wind." (Ecclesiastes 1:1-14)

"…when I surveyed all that my hands had done and what I had toiled to achieve everything was meaningless, a chasing after the wind; nothing was gained under the sun… So my heart began to despair over all my toilsome labor under the sun.… This too is meaningless and a great misfortune. What does a man get for all the toil and anxious striving with which he labors under the sun?… This too is meaningless." (Ecclesiastes 2:11-23)
Hardly optimistic! In one of his poems, Song of Songs, he records an erotic, red-hot love affair that he was having – the very thing that seems most likely to provide life-long satisfaction. But in the end, the love affair did not give him sustained satisfaction as we know from Ecclesiastes.  The promise of pleasure, wealth, work, progress, romantic love to ultimately satisfy was shown by him to be an illusion.
Now wherever I looked around me, either among my friends or in society, it seemed like Solomon's pursuits for a full life were the ones everywhere being offered and tried. But he had already told me that he had not been able to find it on those paths. So I sensed that I would not find it there and would need to look on a road less traveled.
Along with all these issues I was bothered by another aspect of life. It troubled Solomon as well.
Man's fate is like that of the animals; the same fate awaits them both: As one dies, so dies the other. All have the same breath; man has no advantage over the animal. Everything is meaningless.  All go to the same place; all come from dust, and to dust all return. 21 Who knows if the spirit of man rises upward and if the spirit of the animal goes down into the earth?" (Ecclesiastes 3:19-21)

All share a common destiny—the righteous and the wicked, the good and the bad, the clean and the unclean, those who offer sacrifices and those who do not. As it is with the good man, so with the sinner; as it is with those who take oaths, so with those who are afraid to take them. This is the evil in everything that happens under the sun: The same destiny overtakes all. … they join the dead.  Anyone who is among the living has hope—even a live dog is better off than a dead lion!  For the living know that they will die, but the dead know nothing; they have no further reward, and even the memory of them is forgotten. (Ecclesiastes 9:2-5)
The ancient writings of Solomon struck a cord within me and caused me to search for answers. Questions about life, death, immortality, and meaning percolated within me. In my final year of high school we were given an assignment to collect one hundred pieces of literature (poems, songs, short stories etc.) into an anthology. Most of my anthology dealt with these issues and it allowed me to 'meet' and hear many others who also wrestled with these same questions. And meet them I did – from all sorts of eras, educational backgrounds, lifestyle philosophies, religions and genres. There was Satisfaction by the Rolling Stones, Time by Pink Floyd, and Ozymandius by Shelley, Samuel Coleridge, W.H. Auden, Shakespeare, Frost, and so on.
The Wisdom of Guru Sai Baba
When I was an engineering student, one of my professors was a devotee of the Bangalore-based guru Sri Sai Baba and lent me several of his books, which I read with great eagerness. As I read his precepts I found that my moral conscience in me could only agree with his moral teaching. Here are some excerpts from his books that I copied down for myself.
"And what is dharma? Practicing what you preach, doing as you say it has to be done, keeping precept and practice in line. Earn virtuously, yearn piously; live in fear of God, live for reaching God: that is dharma"  Sathya Sai Speaks 4, p. 339

"What exactly is your duty?…

First tend your parents with love and reverence and gratitude.
Second, speak the truth and act virtuously.
Third, whenever you have a few moments to spare, repeat the name of the Lord with the form in your mind.
Fourth, never indulge in talking ill of others or try to discover faults in others.
And finally, do not cause pain to others in any form"  Sathya Sai Speaks 4, pp.348-349

"Whoever subdues his egoism, conquers his selfish desires, destroys his bestial feelings and impulses, and gives up the natural tendency to regard the body as self, he is surely on the path of dharma"  Dharma Vahini, p.4
When I studied Sai Baba's writings I did so in two ways. First, I studied them to see if what this Hindu holy man taught was actually good. Did I agree with him that what he said was 'good and true', really was in fact good and true?  I recognized that what he taught in these precepts was good, really good. These were teachings I should live by. I invite you also to study these teachings to see if you should live by precepts as these.
But that is where I came across a big problem. And the problem was not in the precepts, but rather was in me. Because as I tried applying them, no matter how hard I admired these teachings and would strive to live by them, I found I could not consistently do them. I was continually falling short of these good ideals.
It seemed like I had two paths to choose from. The path embodied by Solomon, so commonly pursued all over the world, was to live for self, creating whatever meaning, pleasure or ideals that I would chose to pursue. But I knew the end was not good for Solomon – nor for the many I had seen who had walked down that path. The satisfaction was temporary and illusion.  The path embodied by Sai Baba was impossible, perhaps not for a guru like him, but impossible for a 'normal' person like me.  Continually striving to keep these ideals that I could not attain was not freedom – it was slavery.
The Gospel – Ready to Consider it
In my reading and searching I had read the discourses and teachings by Jesus (Yeshu Satsang) as recorded in the Biblical gospels (Veda Pusthakam). Statements from Jesus like the following stuck with me
"… I have come that they may have life and have it to the full" (John 10:10)

"Come to me, all you who are weary and burdened, and I will give you rest. Take my yoke upon you and learn from me, for I am gentle and humble in heart, and you will find rest for your souls. For my yoke is easy and my burden is light." (Matthew 11:28-30)
It grew on me that maybe, just maybe, here was an answer that perhaps addressed the dead-ends of the other paths. After all, gospel (which to me had just been a more-or-less meaningless religious word) literally means 'good news'. Was the Gospel really good news? Or was it more-or-less hearsay? To answer that I knew I needed to journey down two roads. First, I needed to start to develop an informed understanding of the Gospel. Second, I had lived in different religious cultures, had met people and read authors who had many objections to, and held ideas in opposition to, the Biblical Gospel. These were informed and intelligent people. I needed to develop a sound basis for belief – regarding the Gospel as well as other doctrines – and test these beliefs. I needed to think critically about the Gospel, without just being a mindless critic.
There is a very real sense that when one embarks on this kind of journey one never totally arrives, but I did learn that the Gospel does provide answers to these issues. Its whole point actually is to address them – a full life, death, eternity, and practical concerns like love in our family relationships, guilt, fear and forgiveness. The Gospel's claim is that it is a foundation that we can build our lives upon. One may not necessarily like the answers provided by the Gospel, one may not agree with them or believe them, but given that it addresses these very human questions it would be foolish to remain uninformed of them.
I also learned that the Gospel at times made me quite uncomfortable. In a time when so much seduces us to just live Comfortably Numb the Gospel unapologetically challenged my heart, mind, soul and strength that, though it offers Life, it did not offer an easy one. If you do take time to Consider the Gospel you may find the same.
Since I began my journey in following the Gospel, I have had the privilege to work and travel across India and even visit Nepal.  My forest engineering took me to many places, with different co-workers.  In this context I was able to have conversations and gain further insight into how the gospel is relevant, true and meaningful in a vedic context.  I hope you will find the same as you Consider the Gospel.