Aquarius, or Kumbh, is the sixth Kundali of the ancient Zodiac Story and is part the Zodiac Unit revealing the results for us of the Coming One's victory. Aquarius, coming from Latin for 'water-bearer', forms the image of a man pouring rivers of water from a celestial jar. In modern astrology you follow the horoscope advice for Aquarius to find love, good luck, health, and gain insight on your personality through your kundli.
But Aquarius shows that our thirst for happiness in wealth, luck and love is insufficient. Only the Man in Aquarius can provide the water that will satisfy our thirst. In the ancient zodiac Aquarius offers his water to all people. So even if you are not Aquarius in the modern horoscope sense, the ancient astrological story in the stars of Aquarius is worth knowing so you can choose whether to drink from His water.
Constellation Aquarius in the Stars
Here are the stars that form Aquarius. Can you see anything resembling a man pouring out water from a container in this star photo?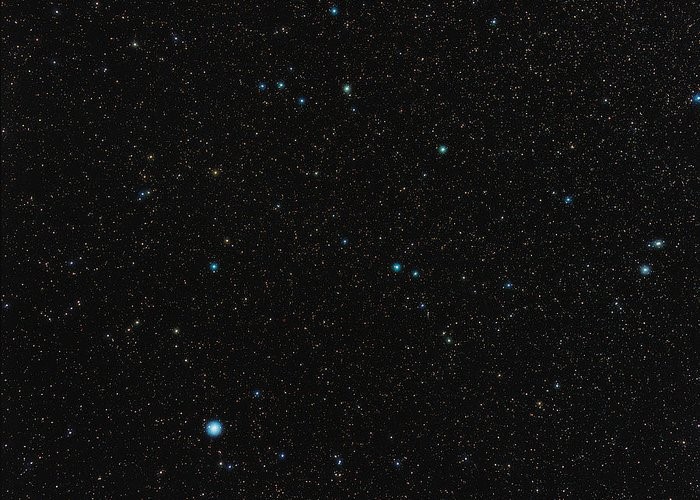 Even if we connect the stars in Aquarius with lines it remains difficult to 'see' any such image. How could anyone even think up a man pouring water onto fish from this?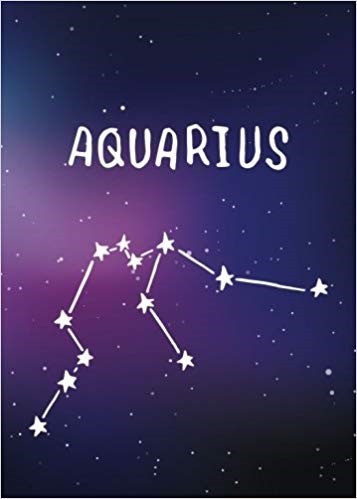 But this sign goes back as far as we know in human history. Here is the zodiac in the Dendera Temple of Egypt, more than 2000 years old with the image of the water-bearer Aquarius circled in red. You can also see in the sketch on the side that the water flows to a fish.
Here is a National Geographic poster of the zodiac showing Aquarius as seen in the Southern Hemisphere.
Even after connecting the stars forming Aquarius with lines it remains difficult to 'see' anything resembling a man, a jar and pouring water in this star constellation. But below are some common astrology images of Aquarius
Aquarius & Rivers of Water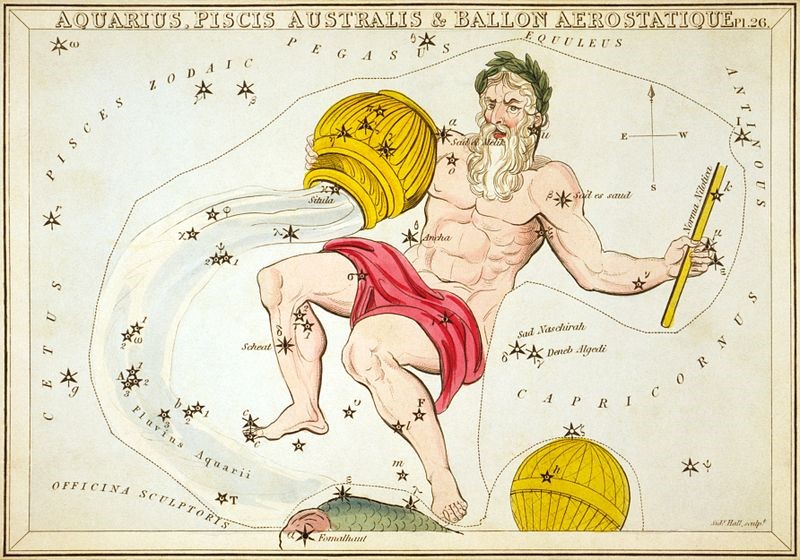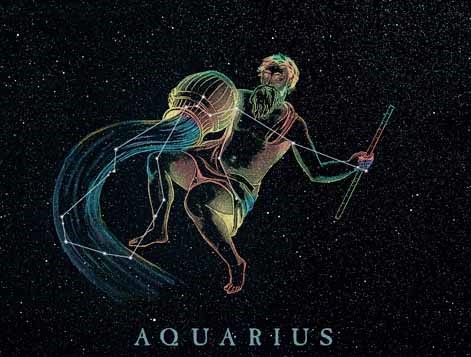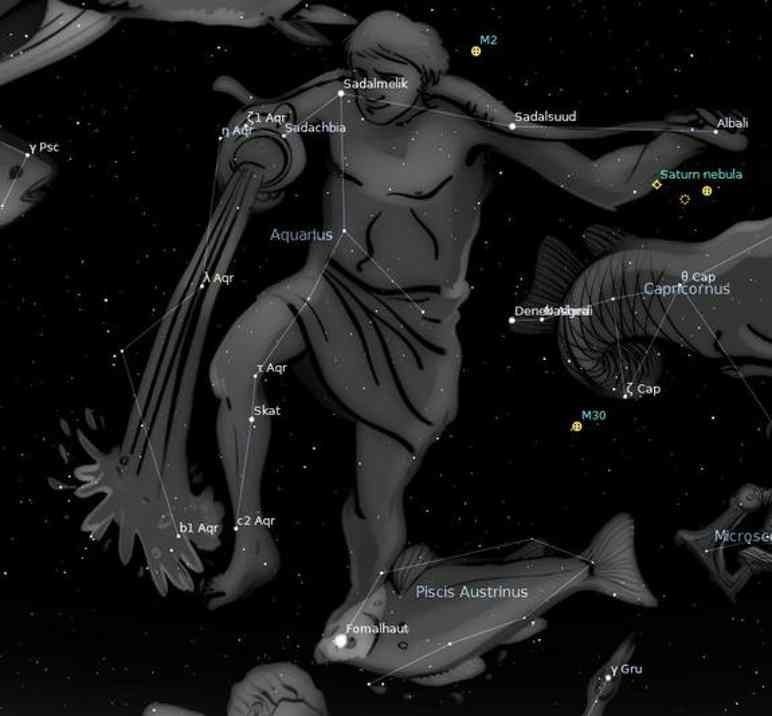 Like the previous zodiac constellations, the image of the Water-Bearer is not obvious from the constellation itself. It is not innate within the star constellation. Rather, the idea of the water-bearer came first. The first astrologers then then overlaid this idea as an image on the stars as a memory aid. The ancients could point out the image to their children and tell them the story associated with the water-bearer. This was its original astrological purpose as we saw here.
But why? And what did it mean to the ancients?
Why has Aquarius from ancient times been associated with The Southern Fish constellation so that the water from Aquarius flows to the Fish?
The Ancient Zodiac Story
We saw that the ancient books of the Bible declares that God made the constellations. They served as signs in His Story guiding mankind. Thus Adam/Manu and his sons taught them to their descendants instructing them of God's Plan. Virgo foretold the coming Son of the Virgin – Jesus. We worked our way through the Story of the Great Conflict and now we are in the second unit revealing the benefits to us of His victory.
The Original Meaning of Aquarius
Aquarius told the ancients two great truths which speak wisdom to us still today.
We are thirsty people (seen by the Southern Fish drinking in the water)
The Water from The Man is the only water that will ultimately quench our thirst.
These two truths were also taught by the ancient Rsi/prophets.
We are Thirsty
The ancient prophets wrote about our thirst in various ways. The Psalms (ancient Gitas) expresses it like this:
As the deer pants for streams of water, so my soul pants for you, my God. 2 My soul thirsts for God, for the living God. When can I go and meet with God?

Psalm 42:1-2
You, God, are my God, earnestly I seek you; I thirst for you, my whole being longs for you, in a dry and parched land where there is no water.

Psalm 63:1
But problems arise when we seek to satisfy this thirst with other 'water'. Jeremiah taught this was the root of our sin.
My people have committed two sins: They have forsaken me, the spring of living water, and have dug their own cisterns, broken cisterns that cannot hold water.

Jeremiah 2:13
The cisterns of water that we pursue are many: money, sex, pleasure, work, family, marriage, status. But these ultimately will not satisfy and we end up still 'thirsty' for more. This is what Solomon, the great King known for his wisdom, wrote about as our maya. But what can we do to quench our thirst?
Lasting Water to Quench our Thirst
These ancients prophets also foresaw a time when our thirst would be quenched. As far back as Moses they looked forward to the day when:
"Water will flow from his buckets, And his seed will be by many waters. His king shall be higher than Agag, And his kingdom shall be exalted.

Numbers 24:7
This was followed with the messages from the Prophet Isaiah
Behold, a king will reign righteously And princes will rule justly. 2 Each will be like a refuge from the wind And a shelter from the storm, Like streams of water in a dry country, Like the shade of a huge rock in a parched land.

Isaiah 32:1-2
'The poor and needy search for water, but there is none; their tongues are parched with thirst. But I the Lord will answer them; I, the God of Israel, will not forsake them.

Isaiah 41:17
So how would the thirst be quenched? Isaiah continued
For I will pour water on the thirsty land, and streams on the dry ground; I will pour out my Spirit on your offspring, and my blessing on your descendants.

Isaiah 44:3
In the Gospels, Jesus declared that he was that Water
On the last and greatest day of the festival, Jesus stood and said in a loud voice, 'Let anyone who is thirsty come to me and drink. 38 Whoever believes in me, as Scripture has said, rivers of living water will flow from within them.'39 By this he meant the Spirit, whom those who believed in him were later to receive. Up to that time the Spirit had not been given, since Jesus had not yet been glorified.

John 7: 37-39
He taught that the 'water' which quenches is His Spirit or Prana, who came to dwell in people on Pentecost. This was the partial fulfillment, which will be finalized in the Kingdom of God as it states:
Then the angel showed me the river of the water of life, as clear as crystal, flowing from the throne of God and of the Lamb

Revelation 22:1
The Thirsty Southern Fish
Who needs water more than fish? So Aquarius is pictured pouring his water to the fish Piscis Australis – The Southern Fish. This illustrates the simple truth that the victory and blessings won by the Man – the Seed of the Virgin – will certainly be received by those for whom they are intended. But to receive this we need to:
"Come, all you who are thirsty, come to the waters; and you who have no money, come, buy and eat! Come, buy wine and milk without money and without cost. 2 Why spend money on what is not bread, and your labor on what does not satisfy? Listen, listen to me, and eat what is good, and you will delight in the richest of fare. 3 Give ear and come to me; listen, that you may live. I will make an everlasting covenant with you, my faithful love promised to David.

Isaiah 55:1-3
This picture of the multitudes receiving these blessings is given in more detail in the fishes of Pisces. The gift of His Water is available to all – you and me included.
The Aquarius Horoscope
Horoscope comes from the Greek 'Horo' (hour) and thus means the marking of special hours. The Prophetic writings mark the Aquarius 'horo' through Jesus in this manner.
Jesus answered, "Everyone who drinks this water will be thirsty again, 14 but whoever drinks the water I give them will never thirst. Indeed, the water I give them will become in them a spring of water welling up to eternal life…" "Woman," Jesus replied, "believe me, an hour is coming when you will worship the Father neither on this mountain nor in Jerusalem. 22 You Samaritans worship what you do not know; we worship what we do know, for salvation is from the Jews. 23 Yet an hour is coming and has now come when the true worshipers will worship the Father in the Spirit and in truth, for they are the kind of worshipers the Father seeks. 24 God is spirit, and his worshipers must worship in the Spirit and in truth."

John 4:13-14, 21-23
So we are now in the 'hour' of Aquarius. This hour is not a short specific hour as with Capricorn. Instead it is a long and wide open 'hour' that continues to extend from the time of that conversation until today. In this hour of Aquarius, Jesus offers us water that will well up to eternal life in us.
Your Aquarius Reading
You can apply the Aquarius horoscope reading today in the following way.
Aquarius says 'know thyself'. What is it deep inside yourself that you thirst after? How does this thirst show itself as the traits that those around you see? Perhaps you are just aware of a vague thirst for 'something more', whether that be money, longer life, sex, marriage, romantic relationships, or better food and drink. That thirst could make you incompatible with those that are already close to you, causing frustration in any of your deeper relationships, whether that be co-workers, family members or lovers. Be careful that your thirst does not cause you to lose what you do have.
Now is a good time to ask yourself what is meant by 'living water'. What are its characteristics? Words like 'eternal life', 'spring', 'spirit' and 'truth' were used to describe the Aquarius offer. They bring to mind traits like 'abundance', 'satisfaction', 'refreshing'. This can turn around your relationships so that you are a 'giver' rather than just a 'taker'. But it all starts with knowing your thirst and being honest about what drives you. Follow the example of the woman in this conversation and see if you can learn how she took up the offer. A life worth living comes as you examine your heart.
Further through the Zodiac Story and deeper into Aquarius
Aquarius was placed in the stars so that all would remember that we do thirst for something more in this life and that the Seed of Virgo came to quench that thirst in us.
Pisces continues the Ancient Zodiac Story. Learn the basis of the Ancient Jyotisha Astrology here.
To understand deeper the written message of Aquarius see: